Welcome to CovaChem, LLC.
CovaChem is a proud to serve analytical and research scientists in the life sciences. We are dedicated to supplying only the highest quality reagents in the marketplace for use in mass spectrometry, proteomics, protein sciences, drug testing and drug development. We offer a wide range of products in both small scale and bulk quantities. For sizes larger than our catalog offering, please contact us for a custom quotation. CovaChem takes great pride in assisting countless businesses and University laboratories with their chemical, biotech, and analytical product needs. The customer is always our top priority, and this is why we offer an UNCONDITIONAL GUARANTEE for all of our products!
CovaChem's mission is to deliver exceptionally high quality products for use in research, while leading the industry in value. Our technical representatives are ready to assist you in method and assay development. Our driven team of scientists with decades of experience aim to provide our customers with the best quality product delivered promptly. Expect more, while extending your research dollar further.
CovaChem's product portfolio includes products for protein research and proteomics, UltraHigh Purity LCMS mobile phases, GC derivitization reagents, other chemicals used in life science research, purified enzymes, and custom organic synthesis services. CovaChem's product offering is continually being updated. If you are looking for a particular product not listed on this site, please call or email our customer service group for availability and pricing. We would be glad to help. As always, please let us know if we can do more to assist you with your research needs.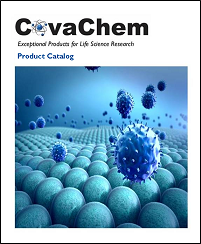 CovaChem's Catalog Is Now Available For Download
For a print copy of our catalog or other product literature, call or email our customer service department.
Sulfo-NHS and NHS Esters in Protein Chemistry
Category:
Articles
Posted:
02-27-2018 01:43
Synopsis:
This article describes the reaction of Sulfo-NHS esters with proteins and peptides in buffered reaction systems. Several of the key reaction concerns are covered here. This post is intended to provide some background for protein research scientists before planning experiments involving this class of compounds.
Crosslinking Proteins With DTSSP
Category:
Articles
Posted:
02-26-2018 15:45
Synopsis:
This article describes some of the useful features of the homobifunctional crosslinker
3,3'-Dithiobis(sulfosuccinimidyl propionate), also known as
DTSSP.
Fundamentals of Choosing a MALDI Matrix
Category:
Articles
Posted:
02-26-2018 14:50
Synopsis:
MALDI is a commonly employed technique for analyzing proteins and other biomolecules by mass spectrometry. This soft ionization technique can be ideal for deciphering the mass and composition of proteins and peptide fragments, but often require some forethought into experimental design.