Sulfo-NHS-SS-Biotin
Sulfo NHS-SS-Biotin Product Description
Sulfo NHS-SS-Biotin is a reducible, long-chain amino reactive biotinylation agent. Sulfo NHS-SS-Biotin reacts with molecules containing primary amine (-NH2) residues, including small molecules, proteins, antibodies and other biomolecular compounds.
Sulfo NHS-SS-Biotin contains a biotin moeity, an elongated spacer arm with a reducible disulfide (S-S) and an active, amine reactive NHS ester. This biotinylation reagent can be added directly to aqueous reactions, or can be dissolved in a high quality, molecular biology grade, anhydrous solvent, such as DMSO (CovaChem 18252) or DMF (CovaChem 18251) prior to adding to final aqueous reaction buffer.
Sulfo NHS-SS-Biotin labeled proteins can be cleaved through the fascile reaction with TCEP (CovaChem 11303) or DTT (CovaChem 11302), allowing for quantitative release of biotin tag.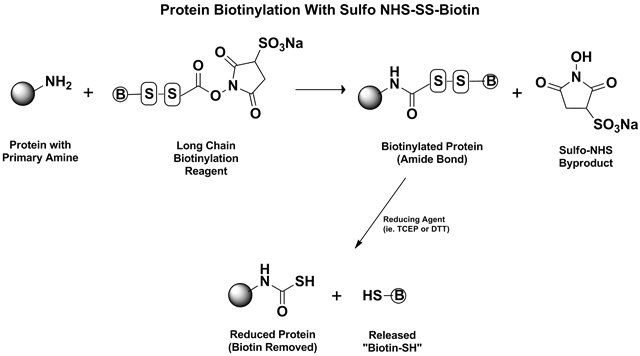 Package Sizes: 100 mg and 1 gram

Product Numbers: 14207-100; 14207-1

Product Name: Sulfo NHS-SS-Biotin

Alternative Names: Sulfosuccinimidyl 2-(biotinamido)-ethyl-1-3'-dithiopropionate; Sulfo NHS-SS-(+)-Biotin; C19H27N4O9 S4Na




Specifications

Appearance: White to Off-White Solid

Purity: is ≥ 90% (Quantitative NMR)

Storage: 4 °C, protected from moisture

Properties

Physical State: Solid

Chemical Formula: C19H27N4O9 S4Na

Molecular Weight: 606.69

Spacer length: 24.3 Å